Eliminate drafts and enhance your home's appearance with our windows Near Rockville, Silver Spring, Columbia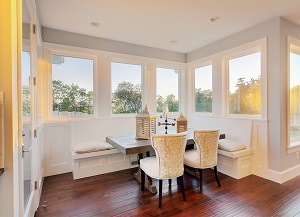 Replacement windows are a beautiful upgrade for your home's appearance & energy-efficiency.
Notice any uncomfortable drafts in your home? Do you have windows with chipping paint, or ones that get stuck when you open and close them? These are all significant signs that you are in desperate need for some new windows.
Starcom Design/Build install high quality replacement windows that will not only prevent drafts, but will also cut heating and cooling costs in half due to their energy-efficient properties. Our windows are built by top manufacturers and are specifically engineered to look beautiful and function even better than they look.
Our windows are available for homes in Columbia, Silver Spring, Rockville and surrounding areas of Maryland. If you are interested in beautiful, new windows, give us a call today!
Replacement windows will help your home
Here at Starcom Design/Build, we have many different styles of windows to choose from, all with added benefits for your home's efficiency and well-being. Below are the reasons you should definitely consider window replacements for your home.
Energy-efficiency: New windows will seal your home and make it airtight. This means you won't lose conditioned air in the warmer and cooler months when you are heating or cooling your home.
Improved aesthetics: New windows look beautiful, especially when you pick a style that complements the other exterior elements of your home, such as your siding and roof. Replacement windows are noticeable, adding a dramatic difference from windows that are worn down and chipped or cracked.
Increased home value: Replacement windows greatly increase the value of your home, whether its for personal gain or you're looking to resell your home.
Comfort & safety: Our replacement windows will reduce noise, making it easier for you and your family to enjoy spending time inside. The enhanced comfort replacement windows bring is measured by the amount of natural light you'll gain and drafts you'll lose. You and your family can enjoy a quiet, comfortable and safe home with windows that easily lock and allow natural sunlight when the curtains are open.
We have multiple replacement window options to choose from
When replacing the windows on your home, we can help you find the right style and type. Insert replacement windows can fit perfectly into your old frame. They are economical and easy to install, without the hassle of removing the old interior or exterior moldings. They are also easy to wash and maintain.
Sash kits are another option for a quick and economical replacement. Just like insert-style windows, the old frame remains. Because sash kits have no frame of their own, they simply slide on vinyl jam liners that are fastened to the existing jamb. However, sash kit windows are only an option where window frames are sound and square. They also tilt for easy cleaning and maintenance.
There are also full-frame replacement windows that require the removal of moldings, which increases labor. However, their advantage is that they do not shrink the visible opening the way insert replacements do, allowing you to increase or decrease window size.
Efficient Replacement Windows in Greater Columbia
Contact Starcom Design/Build today for new windows!
If you need replacement windows for your home, Starcom Design/Build is here to help! We proudly serve Laurel, Annapolis, Glen Burnie, Parkville, Ellicott City, Gaithersburg, Catonsville and nearby. Contact us today at 1-855-230-3690 or by filling out a form online and we can get you started with a free estimate on replacement windows!
Looking for a price? Get a no cost, no obligation free estimate.