Bathroom Remodeling Solutions Near Columbia, Fulton, Highland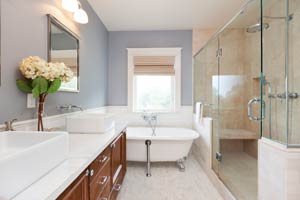 A bathroom remodeling job can include a simple upgrade like installing a new sink or a complete makeover.
We can handle all your bathroom design and bathroom remodeling needs
A bathroom remodel is one of the best ways to upgrade your home's appearance and function. If you've been wanting to update your bathroom fixtures, change the layout, or make any other improvements, Starcom Design/Build are the local remodeling contractors you need!
We provide complete bathroom design and remodeling services, including bathroom vanities, shower and tub installation, tub conversions, fixtures, and custom design plans. No matter what vision you have for your bathroom, we can turn it into reality.
We offer free design consultations and estimates in Columbia, Rockville, Silver Spring, and throughout our entire Maryland service area. Call us at 1-844-572-0625 today or contact us online to get started!
***Starcom Design & Build provides ONLY Full-Bathroom Remodels for Tub to Shower conversions, not stand-alone tub-to-shower conversions***
Custom bathroom design and installation
There is no better way to make a home your own than through customizing the layout and design. Our remodeling pros will work with you to create a unique bathroom design that fits your personal taste and your home's style.
We can replace and install tubs, showers, vanities, toilets, and more to ensure that your new bathroom is a perfect fit with your home. We will also work with you to find the right floors, light fixtures, paint, and other finishing touches to complete the design and give you a flawless finished space.
Complete remodeling services for all your needs
Remodeling your bathroom can range from simple cosmetic upgrades to a complete overhaul that redesigns the layout and function. Starcom Design/Build can help you find the perfect solution for your needs and give you a custom design that meets all your goals. Our remodeling services include: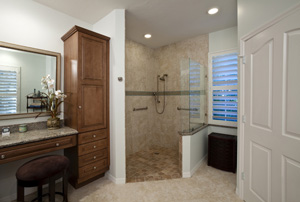 No matter what design ideas you have, we can turn them into reality.
Bathroom vanities: Finding the right vanity for your bathroom is essential to any remodel. Whether you want a single, double, or custom vanity, we have the quality cabinets, sinks, mirrors, countertops, and light fixtures you need to create a beautiful finished appearance.
Flooring: We install a wide variety of styles, colors, and textures of tile flooring for your bathroom, which will help you create a seamless design throughout the room.
Small bathrooms: If you're looking to remodel a small bathroom or powder room, we can help. The right vanity, flooring, and paint will completely transform the appearance of any small bathroom.
Tub-to-shower conversions: Traditional bathtubs are unnecessary for many people, and converting to a shower often provides better function and appearance. We can cut your existing tub apron or replace it with a shower base to give you a full-size shower during your full bathroom remodel.
Upgrade ugly bathtub & showers with bathroom remodeling
Shower Enclosures

Create more open space. A glass walk-in shower enclosure makes a bathroom look bigger, improves accessibility, and adds a more modern touch.

Most people today prefer the convenience and roominess of a walk-in shower over a traditional combination tub/shower unit. Plus, some walk-in showers provide easy access to people with physical handicaps. Modern shower enclosures are essential for your remodeled bathroom without a traditional tub and shower curtain.

Starcom Design/Build installs shower enclosures in many styles, allowing you to find the perfect addition to your bathroom design. Here are different features that distinguish various types of walk-in shower stalls:

Factory-made walk-in showers or stalls: Contractors install most reinforced fiberglass or acrylic one-piece factory-made units in new construction. Although, it's usually necessary to place a multi-piece walk-in shower stall when remodeling. Then seats, shelves, and cubbyholes are put in the walls. A shiny, gel-coated finish resists staining, making the stall surfaces easy to clean. Manufactured walk-in shower units come in different sizes, colors, and different wall design features.
Custom-made walk-in showers: This is a walk-in shower made on-site. With this type of walk-in shower, we will frame the walls and floor of the shower and install masonry backing or base material along with a drain and waterproof membranes. We then finish the shower walls and floor with tile.
Accessible showers: Most walk-in showers are "accessible," but some units have special features designed to accommodate individuals with physical disabilities. For this reason, this type of walk-in shower is called "barrier-free," "handicap-accessible," or "American Disabilities Act (ADA)-compliant."
Glass-enclosed walk-in showers: An accessible walk-in shower is most likely to have a shower curtain, which you can pull aside to provide easy access. Other walk-in showers (especially custom-made showers) have sleek, frameless glass doors that keep water inside the shower stall. Still, walk-in showers may not require doors because of their configuration or the bathroom's design.
Bathtub & Shower Surrounds

Tile showers provide a wide variety of colors and styles for a custom appearance.

Choosing the right bathtub or shower is essential for the design when building a new bathroom or remodeling an existing bath. You want a tub or shower that looks great, is easy to clean, and will maintain its appearance for years. A crucial part of this design is choosing a surround for your shower or bathtub. Starcom Design/Build can give your bathroom the updated look you desire with wall surroundings that can be installed over existing tub or shower stall walls, guaranteeing a perfect fit!

"Surround" describes the wall sections that enclose a bathtub or shower. These barriers have a job going far beyond what we expect from standard walls. A bathtub or shower surround exists in daily soaking conditions without allowing moisture to penetrate into wall cavities or mold to grow on wall surfaces. Also, tub and shower surrounds typically contain recesses or shelves for soap and shampoo.

Types of bath/shower surrounds:

Tile surrounds provide beauty and versatility, signifying high quality in bath and shower surrounds. You can select the tile colors, sizes, and patterns that suit your style. So you can create a one-of-a-kind composition for your bath or shower surround.
Panel-type surrounds have no more than several large wall panels to overlap and, in some cases, interlock, forming a near-seamless surface. Panel-type surrounds have no grout joints to crack, admit water, and support mold growth. Instead, you have thick, durable surround panels that direct water down toward the drain. Panel-type tubs and shower surrounds can be acrylic, fiberglass, plastic, or thin solid-surface material. Surrounds are available to match most tub and shower stall sizes and offer a selection of colors and styles, including faux tile.
Upgrade your home with expert bathroom remodeling today
If you're ready to start your bathroom remodel, call your local home remodeling experts at Starcom Design/Build. We have a solution for all your remodeling needs, and we will give you a beautiful new bathroom that will last for years to come. Call or email us today to schedule a free bathroom evaluation and design consultation in Highland, Fulton, Columbia, Silver Spring, Clarksville, Rockville, Ellicott City, Annapolis, Glen Burnie, Laurel, and nearby!